Mission Briefing






Mission preview - Our story looking at the MESSENGER project and its launch.

Launch timeline - Chart with times and descriptions of events to occur during the launch.

Launch windows - Listing of the daily launch times for MESSENGER to lift off.

Weather forecast - The latest forecast for launch day conditions.

Ground track - See the trajectory the rocket will follow during its flight.

MESSENGER - Technical description of the probe's instruments and systems.

Science objectives - Overview of MESSENGER's scientific goals to provide a better understanding of Mercury.

Mercury - Fast facts about our solar system's innermost planet.

Delta 2 rocket - Overview of the Delta 2-Heavy 7925H-model rocket used to launch MESSENGER.

SLC-17 - The launch complex where Delta rockets fly from Cape Canaveral.

Delta directory - See our coverage of previous Delta rocket flights.





NewsAlert





Sign up for our NewsAlert service and have the latest news in astronomy and space e-mailed direct to your desktop.


Privacy note: your e-mail address will not be used for any other purpose.





The Delta 2 rocket
BOEING FACT SHEET
Posted: May 31, 2004


Boeing will use a Delta 2 7925H-9.5 to launch the MESSENGER spacecraft for NASA.

Boeing manufactures Delta rockets in Huntington Beach, Calif., with final assembly in Pueblo, Colo. The 7925H-9.5 three-stage launch vehicle has five major assemblies: the first stage, including main engine and nine strap-on solid propellant rocket motors; interstage; second stage; third stage and 9.5-foot diameter payload fairing. The Delta 2 is approximately 126 feet tall and eight feet wide.

Manufactured by Rocketdyne, a division of Boeing, the RS-27A main engine operates on liquid oxygen and RP-1 (kerosene). The RS-27A has a sea-level thrust of 200,000 pounds.

To increase first stage performance, Boeing uses nine 46-inch diameter Alliant Techsystems-built graphite-epoxy motors (GEMs), which are derived from those on the standard Delta 2 but are larger and produce 25 percent more thrust.

The main engine and six of the nine solid rocket motors burn at liftoff. The remaining three solid boosters are ignited in flight.

An Aerojet AJ10-118K engine powers the second stage and burns Aerozine-50 fuel and nitrogen tetroxide oxidizer. Ignited at altitude, the engine has a vacuum-rated thrust of 9,815 pounds.

The third stage is Thiokol's Star 48B solid-propellant stage.

An illustration shows the Delta 2 rocket and MESSENGER spacecraft. Credit: Boeing



The Boeing Delta 2 family of expendable launch vehicles was derived from the Delta rockets built and launched since 1960. Delta's origins go back to the Thor intermediate-range ballistic missile, which was developed in the mid-1950s for the U.S. Air Force. The Thor, a single-stage, liquid-fueled rocket, was modified to become the Delta launch vehicle, which later evolved into the Delta 2.

Delta 2 rockets can be configured as two-or three-stage launch vehicles with a varying number of strap-on solid rocket boosters and two sizes of payload fairings, depending on mission requirements.

The Boeing Delta program is headquartered at Boeing Expendable Launch Systems in Huntington Beach, Calif. Manufacturing is located at the Boeing facilities in Pueblo, Colo., and Decatur, Ala.
John Glenn Mission Patch
Free shipping to U.S. addresses!

The historic first orbital flight by an American is marked by this commemorative patch for John Glenn and Friendship 7.

U.S. STORE
WORLDWIDE STORE
Final Shuttle Mission Patch
Free shipping to U.S. addresses!

The crew emblem for the final space shuttle mission is available in our store. Get this piece of history!

U.S. STORE
WORLDWIDE STORE
Celebrate the shuttle program
Free shipping to U.S. addresses!

This special commemorative patch marks the retirement of NASA's Space Shuttle Program. Available in our store!

U.S. STORE
WORLDWIDE STORE
Anniversary Shuttle Patch
Free shipping to U.S. addresses!
This embroidered patch commemorates the 30th anniversary of the Space Shuttle Program. The design features the space shuttle Columbia's historic maiden flight of April 12, 1981.

U.S. STORE
WORLDWIDE STORE
Mercury anniversary
Free shipping to U.S. addresses!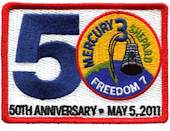 Celebrate the 50th anniversary of Alan Shephard's historic Mercury mission with this collectors' item, the official commemorative embroidered patch.

U.S. STORE
WORLDWIDE STORE
Fallen Heroes Patch Collection

The official patches from Apollo 1, the shuttle Challenger and Columbia crews are available in the store.

U.S. STORE
WORLDWIDE STORE
An insider's view of how Apollo flight controllers operated and just what they faced when events were crucial.

Choose your store:
U.S.
Soviet Space
For the first time ever available in the West. Rocket & Space Corporation Energia: a complete pictorial history of the Soviet/Russian Space Program from 1946 to the present day all in full color. Available from our store.

Choose your store:
U.S. - U.K. - E.U. - Worldwide
Viking patch
This embroidered mission patch celebrates NASA's Viking Project which reached the Red Planet in 1976.

Choose your store:
U.S. - U.K. - E.U. - Worldwide
Apollo 7 DVD
For 11 days the crew of Apollo 7 fought colds while they put the Apollo spacecraft through a workout, establishing confidence in the machine what would lead directly to the bold decision to send Apollo 8 to the moon just 2 months later.

Choose your store:
U.S. - U.K. - E.U. - Worldwide
Gemini 12
Gemini 12: The NASA Mission Reports covers the voyage of James Lovell and Buzz Aldrin that capped the Gemini program's efforts to prove the technologies and techniques that would be needed for the Apollo Moon landings. Includes CD-ROM.

Choose your store:
U.S. - U.K. - E.U. - Worldwide