NewsAlert





Sign up for our NewsAlert service and have the latest space news e-mailed direct to your desktop.


Privacy note: your e-mail address will not be used for any other purpose.





Certification work continues on new missile warning craft
BY JUSTIN RAY
SPACEFLIGHT NOW
Posted: March 19, 2012

The lead spacecraft in the U.S. military's new generation of missile early-warning satellites is delivering better-than-expected results as exhaustive testing continues 22,300 miles above the planet.

An artist's concept of the SBIRS GEO 1 satellite deployed in space. Credit: Lockheed Martin



The Space Based Infrared System Geosynchronous-1 satellite, SBIRS GEO 1 for short, was launched into space atop a ULA Atlas 5 rocket on May 7, 2011 from Cape Canaveral, Florida.

Within weeks, the craft maneuvered itself into the proper orbital position, deployed various appendages and commenced a rigorous checkout period that remains in work today to prove its capabilities before the satellite is entrusted for missile-launch detection.

"We've been extremely pleased with the performance of this first-of-its-kind spacecraft," said Col. James Planeaux, director of the Air Force's Infrared Space Systems Directorate. "We fully expect GEO-1 to enter services as an invaluable military asset that will help protect our nation and its allies for many years to come."

The Air Force reports that testing has found SBIRS GEO 1, valued at more than $1.2 billion, can spot targets 25 percent dimmer than required with an intensity measurement that is 60 percent more accurate than specifications. What's more, the accuracy for payload pointing is nine times more precise than required.

"This satellite is delivering outstanding data to the user community and is performing exceptionally well as it proceeds through its rigorous certification process," said Jeff Smith, vice president of Lockheed Martin's Overhead Persistent Infrared mission area. "The government and industry team is focused on executing a smooth certification process and delivering the full value of SBIRS to the warfighter."

Lockheed Martin is building a fleet of SBIRS GEO satellites to replace the legacy Defense Support Program warning satellites. DSP craft rotate in orbit, enabling their infrared telescopes to scan the planet in a windshield wiper-motion looking for heat signatures of missile plumes.

SBIRS GEO does that scanning, plus includes an addition instrument to stare at a particular part of the globe for signs of threat.

Testing between the new satellite and fine-tuning its ground support network should be completed in May, officials said, and the craft will work through a trial period for final evaluation this fall.

"This first GEO satellite is expected to be certified for operations by U.S. Strategic Command by the end of 2012," the Air Force says.

Originally conceived in the Cold War to focus on intercontinental ballistic missiles, the warning system has evolved to today's short-range missile threats. SBIRS brings new technologies to make quicker detections of fainter objects.

The constellation of satellites continuously monitor the globe to alert the national leadership and battlefield commanders of missile launches, and SBIRS is designed to spot events quicker and disseminate the warnings faster than ever before.


Additional coverage for subscribers:


VIDEO: ATLAS 5 ROCKET LAUNCHES SBIRS GEO-1 PLAY | HI-DEF


VIDEO: LAUNCH REPLAY: OUR SOUND-ACTIVATED REMOTE CAMERA PLAY


VIDEO: LAUNCH REPLAY: CAMERA IN FRONT OF PAD PLAY


VIDEO: LAUNCH REPLAY: VAB ROOF PLAY | HI-DEF


VIDEO: LAUNCH REPLAY: PRESS SITE PLAY | HI-DEF


VIDEO: LAUNCH REPLAY: UCS-2 CAMERA PLAY | HI-DEF


VIDEO: LAUNCH REPLAY: UCS-3 CAMERA PLAY | HI-DEF


VIDEO: WEATHER STOPS FIRST COUNTDOWN PLAY | HI-DEF


SUBSCRIBE NOW


John Glenn Mission Patch
Free shipping to U.S. addresses!

The historic first orbital flight by an American is marked by this commemorative patch for John Glenn and Friendship 7.

U.S. STORE
WORLDWIDE STORE
Final Shuttle Mission Patch
Free shipping to U.S. addresses!

The crew emblem for the final space shuttle mission is available in our store. Get this piece of history!

U.S. STORE
WORLDWIDE STORE
Celebrate the shuttle program
Free shipping to U.S. addresses!

This special commemorative patch marks the retirement of NASA's Space Shuttle Program. Available in our store!

U.S. STORE
WORLDWIDE STORE
Anniversary Shuttle Patch
Free shipping to U.S. addresses!
This embroidered patch commemorates the 30th anniversary of the Space Shuttle Program. The design features the space shuttle Columbia's historic maiden flight of April 12, 1981.

U.S. STORE
WORLDWIDE STORE
Mercury anniversary
Free shipping to U.S. addresses!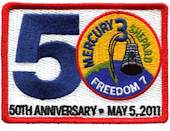 Celebrate the 50th anniversary of Alan Shephard's historic Mercury mission with this collectors' item, the official commemorative embroidered patch.

U.S. STORE
WORLDWIDE STORE
Fallen Heroes Patch Collection

The official patches from Apollo 1, the shuttle Challenger and Columbia crews are available in the store.

U.S. STORE
WORLDWIDE STORE