Spaceflight Now +





Premium video content for our Spaceflight Now Plus subscribers.

Launch of Atlas 5!
The fifth Lockheed Martin Atlas 5 rocket blasts off to deploy the Inmarsat 4-F1 mobile communications spacecraft into orbit. (2min 35sec file)
Play video

Extended launch movie
An extended length clip follows the Atlas 5 launch from T-minus 1 minute through ignition of the Centaur upper stage and jettison of the nose cone. (6min 43sec file)
Play video

Onboard camera
An onboard video camera mounted to the Atlas 5 rocket's first stage captures this view of the spent solid-fuel boosters separating.
Play video

Press site view
This view of the Atlas 5 launch was recorded from the Kennedy Space Center Press Site. (1min 27sec file)
Play video

Atlas 5 preview
Preview the launch of Lockheed Martin's Atlas 5 rocket carrying the Inmarsat 4-F1 communications spacecraft with this narrated animation package. (3min 47sec file)
Play video

Inmarsat info
Andrew Sukawaty, CEO of Inmarsat, provides a detailed overview of the company and its newest satellite to be launched aboard Lockheed Martin's Atlas 5 rocket. (13min 53sec file)
Play video

Stats on Inmarsat 4-F1
Michel LeMoine, satellite program director at Astrium, gives a technical oveview of the Inmarsat 4-F1 spacecraft and its mission during the pre-launch news conference. (8min 59sec file)
Play video

Launch of Atlas 5
The Lockheed Martin Atlas 5 rocket launches at 7:07 a.m. EST from Cape Canaveral carrying the AMERICOM 16 communications spacecraft. (6min 22sec file)
Play video

Press site view
The sunrise launch of Atlas 5 is shown in this view from the Kennedy Space Center press site at Complex 39. (QuickTime file)
Play video

Rocket rollout
Riding on its mobile launching platform, the Atlas 5 rocket is rolled from its assembly building to the launch pad at Complex 41 just hours before the scheduled liftoff time carrying AMC 16. (4min 41sec file)
Play video

Atlas 5 news briefing
Mission officials hold the pre-launch news conference in Cape Canaveral on Thursday, Dec. 16 to preview the flight of Atlas 5 with AMC 16. (40min 41sec file)
Play video

AMC 16 launch preview
Preview the launch of Lockheed Martin's Atlas 5 rocket carrying the AMERICOM 16 communications spacecraft with this narrated animation package. (2min 52sec file)
Play video

The AMC 16 spacecraft
This narrated movie provides an overview of the Lockheed Martin-built AMC 16 spacecraft for operator SES AMERICOM. (3min 30sec file)
Play video

Last Atlas 2AS rocket
Lockheed Martin's last Atlas 2AS rocket blasts off from Cape Canaveral carrying a classified National Reconnaissance Office spacecraft on August 31. (3min 59sec file)
Play video

Salute to pad 36A
The Atlas launch team in the Complex 36 Blockhouse celebrate the history of pad 36A in a post-launch toast. The Atlas 2AS rocket flight was the last to launch from the pad, which entered service in 1962. (2min 09sec file)
Play video

Mission success
The classified NRO payload is deployed from the Centaur upper stage to successfully complete the launch. (1min 56sec file)
Play video

Become a subscriber
More video




NewsAlert





Sign up for our NewsAlert service and have the latest news in astronomy and space e-mailed direct to your desktop.


Privacy note: your e-mail address will not be used for any other purpose.





Atlas rocket family extends launch success record
BY JUSTIN RAY
SPACEFLIGHT NOW
Posted: March 12, 2005


Riding the most powerful Atlas rocket in history, the world's heaviest commercial communications satellite is circling the Earth following Friday's fast and fiery blastoff from Cape Canaveral.

This stunning image of the Atlas 5 rocket launching Inmarsat 4-F1 was captured by a fisheye lens fitted on a sound-activated camera at Complex 41. Photo: Ben Cooper/Spaceflight Now



The Inmarsat 4-F1 spacecraft becomes the cornerstone in a sophisticated network providing mobile broadband communications services spanning the globe for users at sea, in the air and on land.

"Thanks to you all, the world just got a little smaller today," Inmarsat CEO Andrew Sukawaty told the Atlas launch team shortly after the successful liftoff.

"The satellite that just went up is the largest commercial satellite to be launched. There is a very important reason for that: we are looking to launch an exciting new service globally, and this was the first step in that.

"Putting almost half-megabit data speeds for people to access globally where terrestrial networks don't go, we see as a fundamental service. Some see it as a life-line service in some parts of the world, an essential service for media, for aid organizations, for maritime, which is a base of customers that has been with us for many, many years.

"It is an important service for the world and we just improved it in a major way, and you all made the world a little smaller."


| | |
| --- | --- |
| | The Lockheed Martin Atlas 5 rocket ascends from Complex 41. Photo: ILS |
The $250 million launch was postponed a day, but the second attempt was uneventful as Lockheed Martin crews fueled up the 194-foot tall Atlas 5 vehicle at Complex 41 and aimed for liftoff at 4:42 p.m. EST (2142 GMT).

Blessed with Chamber of Commerce weather and a countdown free of any technical gremlins, the Russian-designed main engine thundered to full throttle in the last moments of the launch campaign that had taken years to reach culmination. Three 67-foot long solid-propellant booster rockets strapped to the first stage were then commanded to ignite, rapidly propelling the vehicle skyward on more thrust than any previous Atlas.

Within five seconds, the rocket has cleared the lightning protection towers around the launch pad. In contrast, earlier Atlas 5 rockets lacking any solid boosters for added liftoff kick took 13 seconds to ascend from the towers.

Following a 32-minute launch across the Atlantic Ocean, the Atlas 5 delivered Inmarsat 4-F1 into a super-synchronous transfer orbit, releasing the craft over Africa. The highly elliptical orbit featured a high point of 56,270 miles, a low point of 274 miles and inclination of 20.83 degrees.

The exceptionally high transfer orbit was targeted given the performance available from the launch vehicle and the fuel-saving efficiency it permits satellite controllers when conducting the orbital maneuvers to place the spacecraft into geostationary orbit.


| | |
| --- | --- |
| | The launch occurred in perfect weather conditions as seen from the Kennedy Space Center Press Site at Complex 39. Photo: Ben Cooper/Spaceflight Now |
Over the next three weeks, the satellite's onboard propulsion system will circularize the orbit at 22,300 miles and reduce the inclination to approximately 0 degrees so that the craft can match the Earth's rotation and appeared parked over the equator.

The Lockheed Martin Atlas 5 rocket gave a tailored feel to its Inmarsat spacecraft payload, with three strap-on solid boosters and a stretched nose cone.

This particular configuration of the next-generation launcher -- called the Atlas 5-431 model with a four-meter fairing, three solids and single-engine Centaur upper stage -- had never flown. But its debut appeared flawless, and extended the string of consecutive successful missions by the Atlas family to 76 since 1993, including all five Atlas 5 flights. The joint U.S.-Russian firm International Launch Services, which markets the Atlas and Proton rocket fleets, managed the mission.

"Years of effort, 7 years from the inception of this project, went into this," Sukawaty said. "Teams of people have been dedicated to this for a healthy part of their careers. You at ILS certainly have a reputation that can't be matched in terms of reliability, and I saw it in action today. It was impressive. Thank you all very much."

The Inmarsat 4-F1 satellite weighed 13,138 pounds at launch. By far the heftiest commercial communications spacecraft launched from Cape Canaveral, its official liftoff mass was a bit heavier than earlier predictions. As a result, it eclipsed by a tiny margin the previous record-holder's weight to become the heaviest satellite of its kind deployed into orbit.


| | |
| --- | --- |
| | As seen from Port Canaveral, the Atlas 5 rocket launched into crystal clear skies. Photo: Steve Harrison |
"This is a milestone launch for us...in terms of the size of the payload," ILS President Mark Albrecht said. "Inmarsat 4-F1 is one of largest commercial communications satellites in the world, as well as the most massive satellite launched by Atlas. Yet it falls into the middle of the Atlas 5 capability range, demonstrating the flexibility of our design."

Lockheed Martin designed the Atlas 5 family to incorporate various configurations, allowing each rocket and its specific payload to be paired together with just the right amount of power. The rocket can be fitted with as many as five strap-on solid boosters to loft over 19,000 pounds into geosynchronous transfer orbit. Before Friday's flight, the most solids used on a single Atlas 5 launch was two.

The Inmarsat 4-F1 craft is the first of Inmarsat's newest generation of satellites that come with the tag line "broadband for a mobile planet." Built in Europe by EADS Astrium, the Inmarsat 4-series spacecraft will provide office-like broadband services such as Internet, email, voice and data-relay using laptop and palm-sized terminals on land, at sea or in the air.

"It's really about taking the office with you where terrestrial networks don't go economically," Sukawaty said.

What's more, the Inmarsat 4-series of satellite will continue the existing lower-data-rate capacity currently offered by the London-headquartered company for maritime, air and emergency services, and enhance navigation signals for air traffic uses.

"Basically, it is going to expand our services and extend the life of our service to the end of the next decade," Sukawaty said.

An artist's concept shows the Inmarsat 4-series satellite in orbit. Credit: EADS Astrium



The sophisticated satellites transmit over 200 spot beams to deliver strong signals to the small receivers. Each craft has a giant unfurlable antenna reflector stretching 30 by 39 feet.

The new craft are 60 times more powerful and have 20 times more capacity than their predecessors, the Inmarsat 3-series of satellites. Inmarsat has 9 older satellites in orbit.

Inmarsat 4-F1 will be operated at 64 degrees over the Indian Ocean to cover Europe, Africa, the Middle East and Asia. A sister satellite -- Inmarsat 4-F2 -- is scheduled to fly later this year atop a Sea Launch rocket to serve South America, most of North America, the Atlantic Ocean and part of the Pacific Ocean.

"The first two I-4 satellites will bring broadband communications to 86 percent of the world," Sukawaty said.

A third craft is under construction for back up to the first two. If not needed as a replacement, the F3 craft could be deployed over the Pacific.

Video coverage for subscribers only:

VIDEO: ATLAS 5 ROCKET BLASTS OFF WITH INMARSAT 4-F1 QT

VIDEO: WATCH EXTENDED LENGTH LAUNCH MOVIE QT

VIDEO: ONBOARD VIEW OF SOLID ROCKET BOOSTER SEPARATION QT

VIDEO: LAUNCH AS SEEN FROM THE PRESS SITE QT

VIDEO: NARRATED ANIMATION PREVIEW OF THIS LAUNCH QT

VIDEO: OVERVIEW OF INMARSAT AND ITS NEWEST SATELLITE QT

VIDEO: TECHNICAL BRIEFING ON THE INMARSAT 4-F1 SPACECRAFT QT

SUBSCRIBE NOW

Apollo 12 tribute DVD set

New! Featuring the jovial crew of Pete Conrad, Dick Gordon and Alan Bean, the Apollo 12 mission was struck by lightning shortly after liftoff but proceeded on the second successful exploration voyage to the lunar surface. This three-disc DVD brings the mission to life with extraordinary detail.

Choose your store:
U.S. - U.K. - E.U. - Worldwide
Fallen Heroes special patch
This special 12-inch embroidered patch commemorates the U.S. astronauts who made the ultimate sacrifice, honoring the crews of Apollo 1, Challenger and Columbia.

Choose your store:
U.S. - U.K. - E.U. - Worldwide
Women in Space
Women of Space: Cool Careers on the Final Frontier is for girls, young women, and anyone else interested in learning about exciting careers in space exploration. Includes CD-ROM.

Choose your store:
U.S. - U.K. - E.U. - Worldwide
Mars rover poster
This new poster features some of the best pictures from NASA's amazing Mars Exploration Rovers Spirit and Opportunity.

Choose your store:
U.S.
Apollo Collage

This beautiful one piece set features the Apollo program emblem surrounded by the individual mission logos.

U.S. STORE
WORLDWIDE STORE
John Glenn Mission Patch
Free shipping to U.S. addresses!

The historic first orbital flight by an American is marked by this commemorative patch for John Glenn and Friendship 7.

U.S. STORE
WORLDWIDE STORE
Final Shuttle Mission Patch
Free shipping to U.S. addresses!

The crew emblem for the final space shuttle mission is available in our store. Get this piece of history!

U.S. STORE
WORLDWIDE STORE
Celebrate the shuttle program
Free shipping to U.S. addresses!

This special commemorative patch marks the retirement of NASA's Space Shuttle Program. Available in our store!

U.S. STORE
WORLDWIDE STORE
Anniversary Shuttle Patch
Free shipping to U.S. addresses!
This embroidered patch commemorates the 30th anniversary of the Space Shuttle Program. The design features the space shuttle Columbia's historic maiden flight of April 12, 1981.

U.S. STORE
WORLDWIDE STORE
Mercury anniversary
Free shipping to U.S. addresses!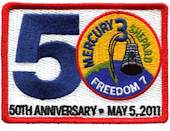 Celebrate the 50th anniversary of Alan Shephard's historic Mercury mission with this collectors' item, the official commemorative embroidered patch.

U.S. STORE
WORLDWIDE STORE
Fallen Heroes Patch Collection

The official patches from Apollo 1, the shuttle Challenger and Columbia crews are available in the store.

U.S. STORE
WORLDWIDE STORE
Columbia Report
A reproduction of the official accident investigation report into the loss of the space shuttle Columbia and its crew of seven.

Choose your store:
U.S. - U.K. - E.U. - Worldwide
Mars Panorama

DISCOUNTED! This 360 degree image was taken by the Mars Pathfinder, which landed on the Red Planet in July 1997. The Sojourner Rover is visible in the image.

Choose your store:
U.S.
Apollo 11 Mission Report
Apollo 11 - The NASA Mission Reports Vol. 3 is the first comprehensive study of man's first mission to another world is revealed in all of its startling complexity. Includes DVD!

Choose your store:
U.S. - U.K. - E.U. - Worldwide
Rocket DVD
If you've ever watched a launch from Kennedy Space Center, Cape Canaveral, Vandenberg Air Force Base or even Kodiak Island Alaska, there's no better way to describe what you witnessed than with this DVD.

Choose your store:
U.S. - U.K. - E.U. - Worldwide