American TV watchers to reap benefits of Atlas launch
BY JUSTIN RAY
SPACEFLIGHT NOW
Posted: February 5, 2004


Starting this spring when U.S. cable television viewers flip on the Discovery Channel, MTV, Nickelodeon or Showtime, they will be watching the channels via a broadcasting satellite successfully launched into space Thursday from Cape Canaveral.

The Atlas 2AS rocket launches with the AMC-10 spacecraft. Credit: ILS



With a full moon beaming over pad 36A, the Lockheed Martin Atlas 2AS rocket roared away from Earth at 6:46 p.m. EST (2346 GMT) carrying the 5,159-pound AMC-10 spacecraft.

Delayed 50 minutes by a balky helium valve, engineers overcame the glitch to reschedule the liftoff with 20 minutes to spare in the day's available launch window.

The Atlas launcher delivered its payload into the proper orbit, increasing the rocket's remarkable string of consecutive successful flights to 69 dating back a decade.

"We are delighted to have had an enormously successful launch of AMC-10," said Mark Albrecht, president of International Launch Services, which manages Atlas missions. "Sixty-nine out of 69 launches since 1993 of all Atlas configurations -- a record that is absolutely unmatched in the launch business. The Atlas team is the gold standard of commercial space launch."


| | |
| --- | --- |
| | A tracking camera provides this dramatic view the Atlas 2AS rocket's engines during ascent. Credit: ILS TV |
Ground controllers established contact with the Lockheed Martin-built satellite through a tracking station in Uralla, Australia, confirming the craft was functioning following the launch.

"This evening's launch was picture-perfect," said Dean Olmstead, president and CEO of SES AMERICOM, operator of AMC-10.

A series of orbit-raising burns will be conducted by AMC-10 in the coming days as it travels from the highly elliptical geosynchronous transfer orbit achieved during launch -- 22,336 by 116 miles inclined 12.4 degrees -- into a circular geostationary orbit 22,300 miles above the equator. The craft is expected to reach its intended perch and deploy the power-generating solar arrays and antennas by late next week before entering a testing period.

SES AMERICOM hopes to have the satellite in full service by early May, replacing the aging Satcom C-4 satellite at the 135-degree West longitude orbital slot. From that vantage point, dozens of television networks will be transmitted to AMC-10 for relay to cable companies across America. Those companies in turn pipe the programming to subscribers in over 80 million U.S. homes.


| | |
| --- | --- |
| | One of the two ground-lit solid rocket boosters is seen here jettisoning from the Atlas first stage just over a minute into flight. Credit: ILS TV |
"AMC-10 will be delivering some of America's leading cable programs...reaching almost every television household with all sorts of entertainment, information, and event programming, including high-definition services from Discovery and Showtime," said Olmstead.

Networks that will use AMC-10 include Animal Planet, Bravo, CNBC, C-SPAN, numerous Discovery channels, E!, Flix, Food Network, History Channel, Home & Garden Television, Home Shopping Network, iN DEMAND, MTV, Nickelodeon, QVC, Showtime, The Learning Channel, Travel Channel, TV Land, VH-1 and The Weather Channel.

AMC-10 will be joined in orbit by its twin, AMC-11, when it's launched May 19 aboard another Atlas 2AS rocket.

"Since the AMC-10 and AMC-11 satellites are two of a kind, we fully expect to be repeating another successful mission right here at the Cape in a few months' time," Albrecht said.

AMC-11 will replace the Satcom C-3 spacecraft at the 131-degree West orbital location to relay even more networks to cable watchers.

"If you watch TV, more than half of the content that you see...has gone over AMERICOM satellites," Olmstead told reporters at a morning news conference. "We are the service behind the delivery of the premium channels in the U.S., and that historically has been provided on our satellites that are now reaching the end of their lives and being replaced by these new-technology satellites, AMC-10 and 11."

An artist's concept of AMC-10 in orbit. Credit: Lockheed Martin



Providing nearly 20 percent more power than the Satcoms they are replacing, the AMC pair will offer enhanced digital programming and high-definition channels. They each feature 24 C-band transponders and planned service lives of 15 years.

High-definition users of AMC-10 include Discovery HD Theater, Showtime, NBC and PBS. Additional HD users could be in the offing.

"We will have a couple of transponders left over," Olmstead said. "We've saved those to accommodate the launch of some new HD content. So stay posted. I think we are going to see a lot of interesting announcements relative to new HD programming. The time for high-definition has come, and we're here to provide the best service to the cable industry."

Future plans for the Satcoms have not been finalized. Both were launched in the summer of 1992.

"Those satellites both have lifetime left in them," Olmstead said, noting they are being replaced early to ensure continuity of service to the cable companies.

"As we get closer to making the decisions -- i.e. once we have had the successful launches, we've gone through on-orbit testing and decided to bring the new satellites into service -- we will then make decisions on the redeployment. We've not done that yet.

"There are a number of alternatives under consideration. I can tell you that it falls into two categories. One is we may leave one spacecraft in the neighborhood for a time being to make sure everything is fine and stable, and we may move one of the spacecraft into a new orbit slot to begin to create some new commercial opportunities."

The Atlas 2AS rocket on pad 36A during fueling Thursday. Credit: Lockheed Martin video



The next Atlas launch is scheduled for 12:41 a.m. EST (0541 GMT) March 12 from Cape Canaveral. The Atlas 3A rocket will carry the MBSAT satellite for Japan's Mobile Broadcasting Corporation.

The Japanese Superbird 6 communications spacecraft will ride another Atlas 2AS rocket in mid-April, followed a month later by the AMC-11 launch.

"We have a very, very busy manifest this year," Albrecht said.

ILS is a joint U.S./Russian venture that markets both Atlas and Proton rockets. Each rocket family is expecting to make five or more flights in 2004.

Video coverage for subscribers only:

VIDEO: 6-MINUTE CLIP OF ATLAS LAUNCHING AMC-10 QT

VIDEO: POST-LAUNCH COMMENTS FROM MANAGERS QT

VIDEO: OVERVIEW OF THE AMC-10 CABLE TV SATELLITE QT

VIDEO: NARRATED ANIMATION PREVIEW OF THIS LAUNCH QT


FROM THE ARCHIVES: MOST RECENT ATLAS 2AS FROM THE CAPE

VIDEO: LIFTOFF AS SEEN FROM COMPLEX 36 BLOCKHOUSE ROOF QT

VIDEO: CAMERA LOCATED IN YARD NORTHEAST OF PAD QT

VIDEO: DRAMATIC CAMERA ANGLE FROM UMBILICAL TOWER QT

VIDEO: SETTING SUN SERVES AS BACKDROP IN EASTERN VIEW QT

VIDEO: SOUTH CAMERA VIEW FROM END OF LAUNCH PAD RAMP QT

VIDEO: TRACKING CAMERA FOLLOWS ROCKET THROUGH T+3 MIN QT

VIDEO: CLOSE-UP OF ENGINES DURING ASCENT QT

SUBSCRIBE NOW

Flight data file
Vehicle: Atlas 2AS (AC-165)
Payload: AMC-10
Launch date: Feb. 5, 2004
Launch window: 5:56 to 7:06 p.m. EST (2256-0006 GMT)
Launch site: Complex 36A, Cape Canaveral, Florida
Satellite broadcast: AMC-9, Transponder 22, C-band


Pre-launch briefing
Launch preview - Our story looking at this Atlas rocket launch of the AMC-10 satellite.


Launch timeline - Chart with times and descriptions of events to occur during the launch.


Weather forecast - The latest forecast for launch day conditions.


Launch hazard area - The restricted area during liftoff.


Ground track - See the trajectory the rocket will follow during its flight.


Orbit insertion - Illustration of AMC-10's trek to geostationary orbit.


Atlas 2AS vehicle data - Description of rocket being used in this launch.


Atlas directory - See our coverage of previous Atlas rocket flights.

Apollo 12 tribute DVD set

New! Featuring the jovial crew of Pete Conrad, Dick Gordon and Alan Bean, the Apollo 12 mission was struck by lightning shortly after liftoff but proceeded on the second successful exploration voyage to the lunar surface. This three-disc DVD brings the mission to life with extraordinary detail.

Choose your store:
U.S. - U.K. - E.U. - Worldwide
Fallen Heroes special patch
This special 12-inch embroidered patch commemorates the U.S. astronauts who made the ultimate sacrifice, honoring the crews of Apollo 1, Challenger and Columbia.

Choose your store:
U.S. - U.K. - E.U. - Worldwide
Women in Space
Women of Space: Cool Careers on the Final Frontier is for girls, young women, and anyone else interested in learning about exciting careers in space exploration. Includes CD-ROM.

Choose your store:
U.S. - U.K. - E.U. - Worldwide
Mars rover poster
This new poster features some of the best pictures from NASA's amazing Mars Exploration Rovers Spirit and Opportunity.

Choose your store:
U.S.
An insider's view of how Apollo flight controllers operated and just what they faced when events were crucial.

Choose your store:
U.S.
Columbia Report
A reproduction of the official accident investigation report into the loss of the space shuttle Columbia and its crew of seven.

Choose your store:
U.S. - U.K. - E.U. - Worldwide
Mars Panorama

DISCOUNTED! This 360 degree image was taken by the Mars Pathfinder, which landed on the Red Planet in July 1997. The Sojourner Rover is visible in the image.

Choose your store:
U.S.
Apollo 11 Mission Report
Apollo 11 - The NASA Mission Reports Vol. 3 is the first comprehensive study of man's first mission to another world is revealed in all of its startling complexity. Includes DVD!

Choose your store:
U.S. - U.K. - E.U. - Worldwide
Rocket DVD
If you've ever watched a launch from Kennedy Space Center, Cape Canaveral, Vandenberg Air Force Base or even Kodiak Island Alaska, there's no better way to describe what you witnessed than with this DVD.

Choose your store:
U.S. - U.K. - E.U. - Worldwide
STS-134 Patch
Free shipping to U.S. addresses!

The final planned flight of space shuttle Endeavour is symbolized in the official embroidered crew patch for STS-134. Available in our store!

U.S. STORE
WORLDWIDE STORE
Final Shuttle Mission Patch
Free shipping to U.S. addresses!

The crew emblem for the final space shuttle mission is now available in our store. Get this piece of history!

U.S. STORE
WORLDWIDE STORE
Apollo Collage

This beautiful one piece set features the Apollo program emblem surrounded by the individual mission logos.

U.S. STORE
STS-133 Patch
Free shipping to U.S. addresses!

The final planned flight of space shuttle Discovery is symbolized in the official embroidered crew patch for STS-133. Available in our store!

U.S. STORE
WORLDWIDE STORE
Anniversary Shuttle Patch
Free shipping to U.S. addresses!

This embroidered patch commemorates the 30th anniversary of the Space Shuttle Program. The design features the space shuttle Columbia's historic maiden flight of April 12, 1981.

U.S. STORE
WORLDWIDE STORE
Mercury anniversary
Free shipping to U.S. addresses!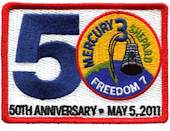 Celebrate the 50th anniversary of Alan Shephard's historic Mercury mission with this collectors' item, the official commemorative embroidered patch.

U.S. STORE
WORLDWIDE STORE
Ferryflight Shuttle Patch
Free shipping to U.S. addresses!

"The Final Mission" - NASA emblem developed for the Shuttle Carrier Aircraft crew and their support teams to deliver the orbiters to their final destinations at museums.

U.S. STORE
WORLDWIDE STORE

Get e-mail updates
Sign up for our NewsAlert service and have the latest news in astronomy and space e-mailed direct to your desktop (privacy note: your e-mail address will not be used for any other purpose).