AC-143 Launch Timeline
SPACEFLIGHT NOW
Posted: March 6, 2002

T-00:02.4
Engine start
Atlas booster and sustainer engines are ignited and undergo checkout prior to liftoff.
T+00:00
Launch
The Atlas 2A rocket, designated AC-143, lifts off and begins a vertical rise away from launch pad 36A at Cape Canaveral Air Force Station, Florida.
T+00:08
Roll Program
During vertical ascent, Atlas begins a 7-second roll maneuver to align itself with proper flight azimuth. Following the roll, the Centaur inertial guidance system controls pitch and yaw programs.
T+02:45
Booster Engine Cutoff
BECO occurs when axial acceleration of 5.0 g is obtained. Sustainer engine provides the continued boost toward orbit for the Atlas rocket.
T+02:48
Jettison Booster Package
The bottom engine structure with the two booster engine nozzles is separated from the Atlas vehicle.
T+03:38
Jettison Payload Fairing
The 14-foot diameter aluminum payload fairing that protected the TDRS-I satellite during launch through the atmosphere is separated once heating levels drop to predetermined limits.
T+04:35
Sustainer Engine Cutoff
SECO is commanded once minimum residual propellant is sensed inside the Atlas booster stage.
T+04:37
Atlas/Centaur Separation
The Atlas booster stage separates from the Centaur upper stage. Over the next few seconds, the Centaur engine nozzles are deployed and liquid hydrogen and liquid oxygen systems are readied for ignition.
T+04:53
Centaur 1st Main Engine Start
MES 1, the longer of the two Centaur firings begins to inject the upper stage and TDRS-I spacecraft into a low-altitude parking orbit around Earth.
T+09:46
Centaur Main Engine Cutoff
MECO 1 occurs the Centaur engines are shutdown, arriving in a planned parking orbit. The vehicle begins a coast period over the mid-Atlantic before arriving at the required location in space for the second burn.
T+24:29
Centaur Main Engine Re-start
MES 2 occurs over the Atlantic Ocean between the African Ivory Coast and Ascension Island before the rocket passes over the equator. The burn lasts until all the Centaur fuel is used, placing TDRS-I into the highest energy transfer orbit possible.
T+25:50
Centaur Main Engine Cutoff
At the point of MECO 2, the Centaur/TDRS-I vehicle should be in the required transfer orbit. Seconds later, the stage begins aligning to the satellite separation attitude.
T+29:37
Spacecraft Separation
NASA's Tracking and Data Relay Satellite-I communications satellite is released into orbit from the Centaur upper stage to complete the AC-143 launch.

Image and data source: International Launch Services and Lockheed Martin Astronautics.

Flight data file
Vehicle: Atlas 2A (AC-143)
Payload: TDRS-I
Launch date: March 8, 2002
Launch window: 5:39-6:19 p.m. EST (2239-2319 GMT
Launch site: SLC-36A, Cape Canaveral AFS, Fla.
Satellite broadcast: GE-2, Trans. 9, C-band


Pre-launch briefing
Ground track - See the trajectory the rocket will follow during its flight.


Launch windows - Available windows for possible future launch dates of TDRS-I.


Atlas 2A vehicle data - Overview of the rocket to be used in this launch.


TDRS-I - Description of this NASA tracking and data relay satellite.


Atlas index - A directory of our previous Atlas launch coverage.

Apollo 12 tribute DVD set

New! Featuring the jovial crew of Pete Conrad, Dick Gordon and Alan Bean, the Apollo 12 mission was struck by lightning shortly after liftoff but proceeded on the second successful exploration voyage to the lunar surface. This three-disc DVD brings the mission to life with extraordinary detail.

Choose your store:
U.S. - U.K. - E.U. - Worldwide
Fallen Heroes special patch
This special 12-inch embroidered patch commemorates the U.S. astronauts who made the ultimate sacrifice, honoring the crews of Apollo 1, Challenger and Columbia.

Choose your store:
U.S. - U.K. - E.U. - Worldwide
Women in Space
Women of Space: Cool Careers on the Final Frontier is for girls, young women, and anyone else interested in learning about exciting careers in space exploration. Includes CD-ROM.

Choose your store:
U.S. - U.K. - E.U. - Worldwide
Mars rover poster
This new poster features some of the best pictures from NASA's amazing Mars Exploration Rovers Spirit and Opportunity.

Choose your store:
U.S.
Apollo 11 special patch
Special collectors' patch marking the 35th anniversary of the historic Apollo 11 moon landing is now available.

Choose your store:
U.S. - U.K. - E.U. - Worldwide
Inside Apollo mission control
An insider's view of how Apollo flight controllers operated and just what they faced when events were crucial.

Choose your store:
U.S.
The ultimate Apollo 11 DVD
This exceptional chronicle of the historic Apollo 11 lunar landing mission features new digital transfers of film and television coverage unmatched by any other.

Choose your store:
U.S. - U.K. - E.U. - Worldwide
Next ISS crew
Own a little piece of history with this official patch for the International Space Station's Expedition 11 crew. We'll ship yours today!

Choose your store:
U.S.
Columbia Report
The official accident investigation report into the loss of the space shuttle Columbia and its crew of seven. Includes CD-ROM.

Choose your store:
U.S.
John Glenn Mission Patch
Free shipping to U.S. addresses!

The historic first orbital flight by an American is marked by this commemorative patch for John Glenn and Friendship 7.

U.S. STORE
WORLDWIDE STORE
Final Shuttle Mission Patch
Free shipping to U.S. addresses!

The crew emblem for the final space shuttle mission is available in our store. Get this piece of history!

U.S. STORE
WORLDWIDE STORE
Celebrate the shuttle program
Free shipping to U.S. addresses!

This special commemorative patch marks the retirement of NASA's Space Shuttle Program. Available in our store!

U.S. STORE
WORLDWIDE STORE
Anniversary Shuttle Patch
Free shipping to U.S. addresses!
This embroidered patch commemorates the 30th anniversary of the Space Shuttle Program. The design features the space shuttle Columbia's historic maiden flight of April 12, 1981.

U.S. STORE
WORLDWIDE STORE
Mercury anniversary
Free shipping to U.S. addresses!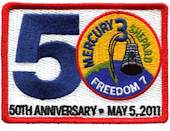 Celebrate the 50th anniversary of Alan Shephard's historic Mercury mission with this collectors' item, the official commemorative embroidered patch.

U.S. STORE
WORLDWIDE STORE
Fallen Heroes Patch Collection

The official patches from Apollo 1, the shuttle Challenger and Columbia crews are available in the store.

U.S. STORE
WORLDWIDE STORE
ERROR: Random File Unopenable
The random file, as specified in the $random_file perl variable was unopenable.

The file was not found on your file system. This means that it has either not been created or the path you have specified in $trrandom_file is incorrect.

The web's best space video service! Get additional video, audio, image and virtual reality content for a low-cost monthly or annual subscription fee. Subscriptions start at $5.95/£3.50. Click here to see what's currently available.

SUBSCRIBE (U.S. Dollars)

SUBSCRIBE (U.K. Pounds)