Ariane abort produces fire and smoke, but no blastoff
BY STEPHEN CLARK
SPACEFLIGHT NOW
Posted: March 30, 2011

With its hydrogen-fueled Vulcain main engine already spewing flame, an Ariane 5 rocket was dramatically grounded Wednesday by a last-second abort moments before two mighty solid rocket boosters were to have ignited to send the 1.7-million-pound launcher toward space.

Watch the tense aborted countdown of Tuesday's Ariane 5 rocket launch. Credit: Arianespace

The 16-story rocket was due to lift off at 2145 GMT (5:45 p.m. EDT), but a final computer check of the Ariane 5's health uncovered a problem that triggered the cutoff of the countdown, according to Jean-Yves Le Gall, Arianespace's chairman and CEO.
Like the space shuttle, the Ariane 5 rocket's core cryogenic main engine ignites seconds before twin solid-fueled boosters, giving computers a chance to gauge the vehicle's health before firing the strap-on motors, which can't be turned off.
Speaking to VIPs gathered inside the Jupiter control room at the Guiana Space Center, Le Gall said engineers and technicians were evaluating the problem a few minutes after the abort was ordered.
"The synchronized sequence went to the end and the cryogenic engine started as planned, but as you know, for seven seconds, the launcher carries out tests and if the tests are not conclusive, the solid boosters do not go ahead," Le Gall said through a translator. "These tests were not conclusive and, therefore, we have an aborted launch. The cryogenic engine has switched off."
The launch team began safing the rocket after the hair-raising abort, and Arianespace said in a statement both of the launcher's communications satellite payloads were secure.
The rocket's nose cone contains the Yahsat 1A spacecraft for Al Yah Satellite Communications Co. of Abu Dhabi and the Intelsat New Dawn payload, a wireless broadband Internet and broadcasting platform financed by South African investment firms.

The Vulcain 2 engine shut down a few seconds after the abort. Credit: Arianespace



It was a rare hiccup for the Ariane 5 rocket, the global leader in launching commercial communications satellites for television broadcasting, Internet services and other applications.

Le Gall said the launch would be delayed at least several days to allow engineers to study and correct whatever problem caused Wednesday's scrub.

"We now have to test and see what actually took place, and why this launch abort took place, and lift off as soon as possible," Le Gall said. "We have to bring the launcher back to the BAF (final assembly building), and therefore this will be delayed, obviously."

The Ariane 5 rocket's ELA-3 launch pad is located 2.8 kilometers, or about 1.7 miles, from the final assembly building. The workhorse launcher rolls between facilities atop a mobile table on rail tracks.

"I'm very sorry about this, but as you know, we do not take any risks and therefore it is very important for us to check this," Le Gall said. "I will give you some further information on why and what the causes for this were (later)."

It was the first Ariane rocket abort after engine ignition since the first flight of the Ariane 1 booster in December 1979, according to Mario de Lepine, a company spokesperson.
John Glenn Mission Patch
Free shipping to U.S. addresses!

The historic first orbital flight by an American is marked by this commemorative patch for John Glenn and Friendship 7.

U.S. STORE
WORLDWIDE STORE
Final Shuttle Mission Patch
Free shipping to U.S. addresses!

The crew emblem for the final space shuttle mission is available in our store. Get this piece of history!

U.S. STORE
WORLDWIDE STORE
Celebrate the shuttle program
Free shipping to U.S. addresses!

This special commemorative patch marks the retirement of NASA's Space Shuttle Program. Available in our store!

U.S. STORE
WORLDWIDE STORE
Anniversary Shuttle Patch
Free shipping to U.S. addresses!
This embroidered patch commemorates the 30th anniversary of the Space Shuttle Program. The design features the space shuttle Columbia's historic maiden flight of April 12, 1981.

U.S. STORE
WORLDWIDE STORE
Mercury anniversary
Free shipping to U.S. addresses!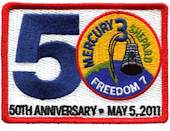 Celebrate the 50th anniversary of Alan Shephard's historic Mercury mission with this collectors' item, the official commemorative embroidered patch.

U.S. STORE
WORLDWIDE STORE
Fallen Heroes Patch Collection

The official patches from Apollo 1, the shuttle Challenger and Columbia crews are available in the store.

U.S. STORE
WORLDWIDE STORE